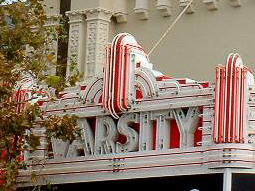 When I was growing up in Palo Alto, the New Varsity Theatre was pretty much the heart of downtown. A good chunk of my high school social and dating life revolved around that building. The theater's closing and conversion to a chain book store was not initially well-received around town.
Borders eventually became a part of the fabric of downtown, and its closing has many worried about the hole it will leave there. It was probably inevitable that talk would turn to restoring the building to its past use. The property owner has, however, made it clear that this is not viable (and the comparison to Redwood City's Fox Theatre, roughly half the size of the Borders building, don't make a lot of sense), and there is no reference to any group that has expressed an interest in leasing the property with such a use in mind.
Property owner Chop Keenan has done a lot of really interesting projects in and around Palo Alto. I'm confident that the building's eventual re-use will be an asset to downtown.
Category: Uncategorized