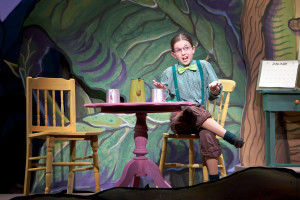 Mountain View's Peninsula Youth Theatre is pleased to participate in the Silicon Valley Community Foundations annual "Silicon Valley Gives" event.    Thanks to the support of the local community, last year PYT was able to:
Provide drama classes and programs for over 2,400 students in 2014
Produce shows enjoyed by families and school groups, a total audience of more than 27,000
Create three World Premiere productions in their "Stories on Stage" program, including an original adaptation of Lemony Snicket's "The Latke Who Couldn't Stop Screaming"
Present "Shrek: The Musical" for the first time
Support a Teen Performance Intensive production of "Brighton Beach Memoirs" produced entirely by PYT students
Co-produce the City of Mountain View's inaugural High School One-Act Play Festival
Not only are the arts good for business, but programs like PYT provide immeasurable benefit to local youth and the community at large.   Please join me in supporting PYT today as part of Silicon Valley Gives!

Category: Uncategorized