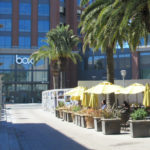 Our Q1 2017 Market Report and Forecast for the SF Peninsula can be downloaded HERE. A preview of my article on the office market follows:
The office sector on the Greater San Francisco Peninsula (includes San Mateo County, Palo Alto, Mountain View, and Los Altos) started 2017 in an excellent position, but with some signs that a modest slowdown in record growth could be in the future. San Mateo County's vacancy rate ended the quarter with a slight increase from 6.97 percent to 7.13 percent, the highest rate since the close of 2015. With unoccupied space virtually non-existent in the Palo Alto and Mountain View markets, the Greater San Francisco Peninsula's vacancy rate continues at low levels ending the quarter at 5.98 percent. While sublease space continues to become a looming factor, this volatile component of the market remains in check on the Peninsula, representing 25.6% of available square footage currently on the market.
Gross absorption, a measure of all leasing activity in a given period, was relatively modest to start 2017.  San Mateo County's total gross absorption of 533,220 square feet is well below the average seen over the past two years, perhaps indicating a slowing market. The average asking rate for the Greater San Francisco Peninsula has hovered above $5.00 Fully Serviced per square foot since early 2016, increasing this quarter from $5.49 to $5.53 fully serviced per square foot. As for San Mateo County, a modest decrease in asking rates from $5.20 to $5.18 fully serviced per square foot indicates no major changes this quarter.
While the Greater San Francisco Peninsula has seen some movement this quarter, activity for San Mateo County has been at a more moderate pace. Two new noteworthy transactions this quarter were Zoox, Inc's 126,345 square foot lease at 1149 Chess Drive in Foster City, and Premia Capital's 46,887 square foot lease to Gunderson Dettmer at 550 Allerton Street, both of which are currently under construction.
By any metric, the market on the Greater San Francisco Peninsula remains solid, with vacancies remaining flat and rents still on the rise, at least for the moment. More modest levels of absorption and an increase in sublease activity may, however, indicate a softening of lease rates on the horizon.
Category: Uncategorized