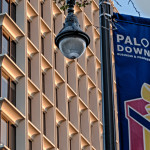 Our 2Q 2015 Market report and forecast for the SF Peninsula is available HERE.  My article on the Office market follows:
At the midpoint of 2015, the seemingly bottomless tech boom has placed the local commercial real estate market in its strongest position in a generation.    Lease rates continue to defy gravity and users find fewer options for expansion as vacancies dwindle.
The office vacancy rate on the Greater San Francisco Peninsula continues to spiral lower, closing the first half of 2015 at an exceptionally low 6.23%.   For San Mateo County alone, vacancies have dipped to 7.68%.    The vacancy rate shown a steady decline over the past 10 quarters.
Gross absorption, a measure of all leasing activity in a market area, for the Greater San Francisco Peninsula totaled 1,345,167 square feet for the second quarter 2015, only slightly above the long-term average for the market, but surprising given the lack of available space and large individual transactions.  The year to date total gross absorption of 3,474,511 square feet marks one of the strongest 6 month totals on record. San Mateo County's 864,136 of Gross Absorption for the quarter (1,893,701 square feet year to date) is especially noteworthy given the shortage of large blocks of space and the associated larger lease transactions.
After flattening out much of last year, lease rates accelerated dramatically in the first half of 2015.  The average asking rate locally, at $4.71 Fully Serviced for the Greater Peninsula and $4.40 Fully Serviced for San Mateo County, has reached a level not seen since the dot-com era.  Higher rents and fast growth are no longer confined to just the most in-demand markets.   In every submarket save the city of Burlingame, average asking rates have topped $3.00 PSF fully serviced.
The core transit-oriented pockets of the Greater Peninsula have led market growth for years. While for the most part these downtown markets are oriented towards smaller multi-tenant users, many of the larger leases in the 2nd quarter of 2015 were in these high demand locations.    Noteworthy transactions in the past quarter include leases by Essex Portfolio (37.928 square feet) and ZS Pharma (37,928 square feet) at San Mateo's successful example of New Urbanization, Park Place.  Other major leases in core locations include Playground Global's 31,537 sf new Palo Alto location and ShopKick's 27,033 square foot expansion into the emerging downtown Redwood City core.
Market observers continue to search in vain for signs of a market bubble bursting.  The level of available sublease space, an excellent indicator of market strength, is now at an historic low.   Office space available for sublease represents only 10% of the total market.   This lack of volatile, price sensitive inventory virtually assures continued upward pressure on rents going forward.
The market within the Greater SF Peninsula will continue to enjoy the effects of Silicon Valley's ongoing tech boom for the foreseeable future.  While new office construction continues locally at a rate not seen in recent memory, conditions are far too strong for added square footage to have an impact.   With even the traditional 'last resort' peripheral markets of North San Mateo County under pressure from both the Peninsula and the booming San Francisco market, large users will be forced to find their solutions even further afield.
Category: Uncategorized