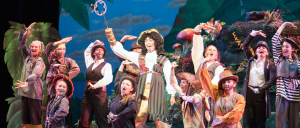 Peninsula Youth Theatre (PYT) is entering its 22nd Season of bringing high quality performances and arts education to our community.   This year alone….
30,000 audience members enjoyed at least one of PYT's theatrical performances including CenterStage, Stories on Stage, School Play in a Box programs as well as our free summer performances of Theatre in the Park.
1,800 students participated in one or more participating in various programs.
PYT implemented a new after-school program in partnership with the Boys and Girls Club of the Peninsula.
PYT provided $37,000 in discounted tickets to schools so that students can experience live theater at the beautiful Mountain View Center for the Performing Arts.
In the spirit of 'Giving Tuesday', please consider supporting Youth arts education in our community.  Click HERE to learn more
Category: Uncategorized