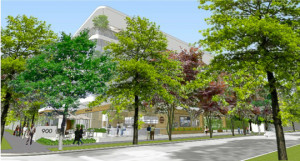 I've had a lot of friends ask me over the last few years, 'what's up with that old house next to Chez TJ?'  A dilapidated structure, adjacent to one of the best restaurants in Northern California as one of the first thing one encounters when entering a nice downtown is, well, a bit odd.  Combine an unrealistic seller with a somewhat questionable historic designation and the result is a pretty prime corner that has just not been in keeping with the surrounding market.
Local developer Roger Burnell's proposal to develop Bryant Park Plaza, a new 21,750 sf Class A office building on the site, met with more resistance than one would expect, particularly given what I'd describe as general public ambivalence towards the existing house.  Burnell made a genuine effort to accommodate history buffs and relocate the old structure, but to no avail.   The city has finally made what I think is a good choice and will allow the site to be redeveloped.
Even in a market as finite as downtown Mountain View, a 20,000 sf office building isn't exactly a game-changer.  But, both the real estate guy and the Mtn View resident in me will be very happy to see this more appropriate gateway to the downtown core.
Category: Uncategorized