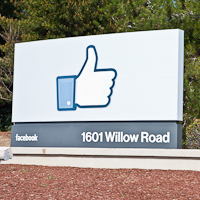 When the news broke that Facebook had quietly purchased 20 acres adjacent to their new Menlo Park campus,  I commented that, given the city's history, Menlo Park's newest major corporate resident may find the development process a tad challenging.
Facebook hopes to eventually bring nearly 10,000 employees to the existing campus and adjacent site– well in excess of what current entitlements call for.  Not unexpectedly, City Hall has issued a laundry list (some might call it a letter to Santa) of community benefits expected from Facebook in exchange for a development agreement.  It's a long list…
One can make a rational case for a city requiring implementation of traffic mitigation programs and making allowances to address the potential opportunity cost of a project of this scope, and Facebook is seeking a fairly significant change to the existing entitlements.  I don't think, though, that City Hall is working in Menlo Park's best interests by starting this process with such an unrealistic stance.   The city has an obligation to balance economic growth with very legitimate concerns over traffic — clearly, Menlo is going far beyond any sort of reasonable balance here.
Given the size of their recent campus commitment, Facebook's claims that these proceedings could jeopardize their long-term position as a major Menlo Park presence ring a tad hollow.  But the demands made by the city of Menlo Park are nothing short of silly.
Category: Uncategorized