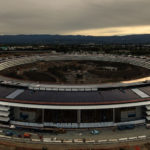 Silicon Valley has been collectively blown away by the stunning design of Apple's iconic new headquarters building.   I've never seen a fraction of the media attention focused on a development project locally (Google's proposed new campus, arguably more innovative and unique, has received pretty perfunctory coverage outside of the home town paper).
The best articles I've seen about Starship Apple have all come from Wired Magazine- their photo tour and (slightly gushy) article a month ago was great.    A new, much more critical piece published this week, covers a lot of concerns about the project that I'd only heard voiced prior in CRE circles, and is an excellent counter-point to much of what's been written to date.   "If Apple ever goes out of business, what would happen to the building? The same thing that happened to Union Carbide's (campus)"– nobody expects Apple to put chains on the front door anytime soon, but history has shown that the market isn't kind to single-use buildings.
Clearly, Apple's new suburban headquarters design goes against current New Urbanism principles, though this is hardly as uncommon locally as the Wired article implies.   Must-read piece for anyone following big-picture trends in Silicon Valley commercial real estate.
Category: Uncategorized